Numa - My 18DoF Quad for Mech Warfare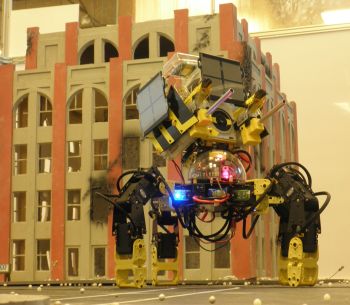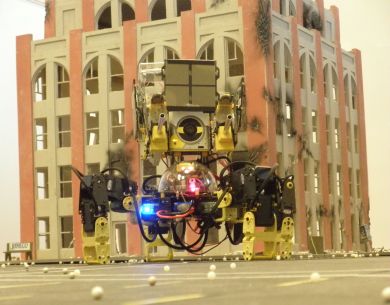 Numa is a 4 legged robot (quad) with 4 servos per leg (4DoF = 4 degree of freedom). Numa is the name of the second king of ancient Rome, and was a good excuse for the intended purple/black color scheme. Currently the colors are instead a black/yellow scheme. And no, I don't particularly care if a charming overweight guy "dancing" to Dragostea Din Tei comes to mind instead.
Mech Warfare
is a 1 on 1 tournament competition between bots. Bots have at most 4 legs, and "fight" with mounted air-soft guns (i.e. 6mm plastic pellet shooters). Hits are registed on target panels, with at most one hit per second being recorded, and each bot having about 20 hit points. Fights are to the death, or 8 minutes. The main competition is at RoboGames in April.
My work is primarily chronicled in my
project thread on the Trossen Robotics Forums
. I'll leave the bulk of details and observations there. There's a lack of exciting footage of Numa outside the below Mech Warfare vid. More film, mostly from testing, can be found on my
Youtube channel
.

Numa cameos at 0:55, 1:30, 7:35

At RoboGames 2012, Numa placed third! Reliability was a major factor.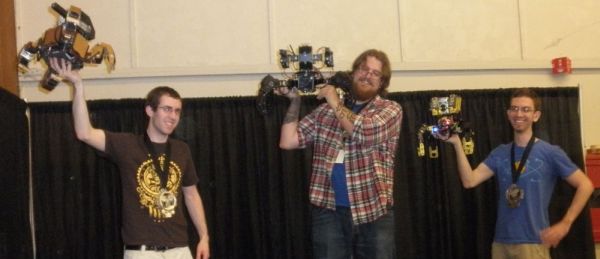 Hardware specs of Numa:
4DoF per leg
16 AX-12A servos in the legs, 2 AX-12A servos for the camera/gun turret
Tristate buffer allows Axon to control the Dynamixel servos.
Can use either Xbee communication, or serial port communication
11.1 V LiPo battery for servos, camera, xBee and guns; 7.4 V LiPo battery for Axon and scoring system
Trendnet TV-IP110W wireless G camera for remote operation
Carbon fiber chassis plates, side panels, and leg brackets
Dyed Bioloid frame kit pieces for other parts of legs.
Delrin 'pan' bearing for turret
Aluminum and delrin 4-bar linkage turret 'tilt' mechanism
Polycarbonate hemisphere from one of those dome ceiling cameras
Pololu dual motor driver for controlling power to guns
Two AEG gearboxes for guns
Two 3D-printed gun hopups, and other assorted 3D printed parts
Two aluminum barrels removed from Crosman Mini Airsoft guns
2012 Mech Warfare scoring system (note: powered by 7.4 V LiPo battery)
Initial gaits (sequences of servo positions that result in walking, turning, etc.) were generated with Mathematica. Real-time calculations for omnidirectional walking have being implemented. The bot is coded in C, using
WebbotLib
with the WinAVR compiler.
Pre-RoboGames 2012 pics: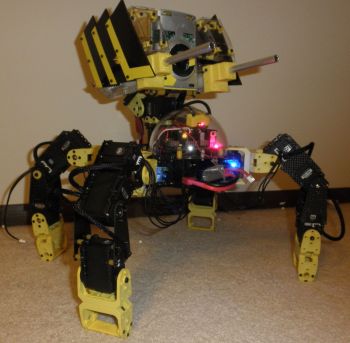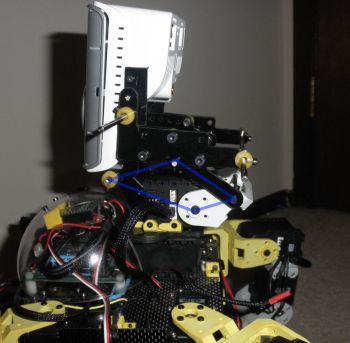 Most of my pictures are uploaded at Trossen, so see the project thread. Some more, older pictures are in my
Flickr album
.
Old pics: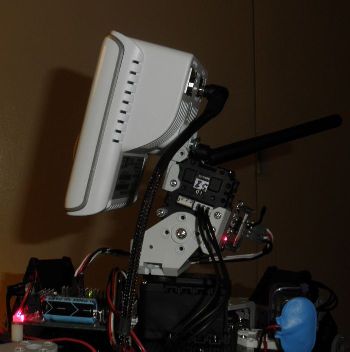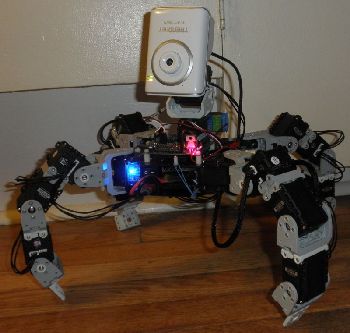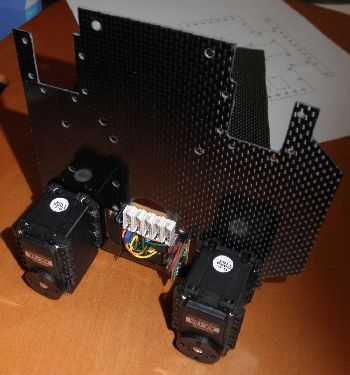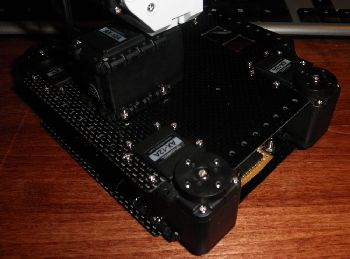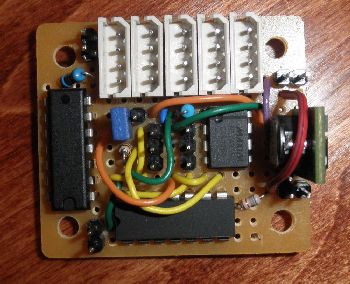 Even older pics: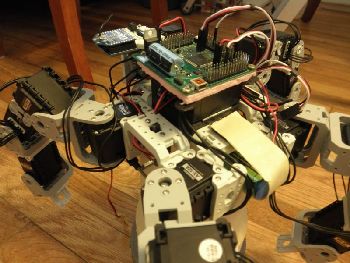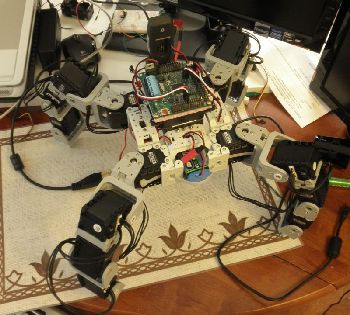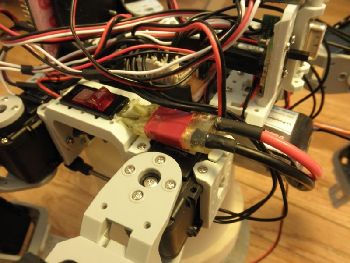 -6-06-12